Supaview Security & Sunscreen are your blind specialists on the Sunshine Coast
Tailored blinds provide a classy feel and can be a really simple way to dramatically change the look of your rooms.
While from a decorating or interior design point of view it's important to select the right fabric colours and textures, it's also vital to think about the functionality you need.
Whether you're choosing blinds for wet areas or bedrooms or you're looking to reduce the heat or glare in your home, ask one of our experts to help you choose the right blinds for you.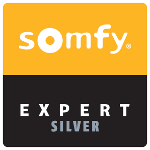 Need it even easier? Put a Somfy motor in it.
At Supaview we love it when our customers are exited about their Awnings and Blinds and this happens most often when we make them work with a remote control.
Motorisation of an awning or blind is becoming as common as a motorising garage door.
To operate your Awning or Blind all you need to do is press down or up and it will effortlessly move to the set up or down position. You can stop the Awning or blind anywhere by pressing the stop button.