Picturesque+ 4303 is a range of PVC coated polyester screen fabrics available in 12 colours. This quality sunscreen fabric range has been designed to create optimum positioning between quality and price.
Technical specification:
1×2 weave
3% openness
Fabric weight 410gsm +/- 5%
Composition – 30% polyester, 70% PVC
Nominal thickness 0.60mm +/- 5%
Roll widths 250cm and 320cm (please see table below)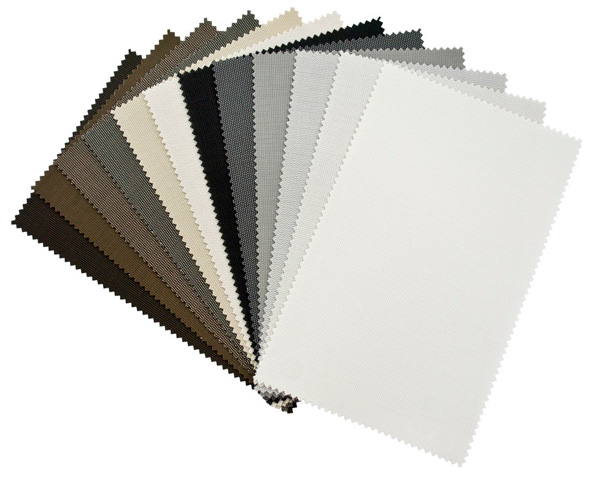 The range of colours and widths available includes:
COLOR
WIDTH
250CM
320CM
White
X
X
White Stone
X
X
White Grey
X
X
Grey
X
Not available
Charcoal Grey
X
X
Charcoal
X
X
White Linen
X
X
Linen
X
Not available
Charcoal Sand
X
X
Charcoal Apricot
X
X
Bronze
X
Not available
Charcoal Bronze
X
X
FR Properties
FR rating to AS1530Pt3:
| | |
| --- | --- |
| Ignitability Index | 14 |
| Spread of Flame Index | 0 |
| Heat Evolved Index | 1 |
| Smoke Developed Index | 7 |
Point-of-Sale support:
An integrated swatch of the Copaco Picturesque+ and SunBloc ranges is available to manufacturers in quantity for their own use or for distribution to their retail customer base. This swatch includes all colours from within all ranges.
Fabrication requirements:
There are no special considerations for fabricators when using Picturesque+ 4303, except that good quality cutting techniques should be used. It is recommended that Picturesque+ 4303 is cut using either crush cutting or ultrasonic cutting machinery. Of course, the performance of the fabric will ultimately be determined by the ability of the hardware system to adequately support the fabric with minimum bending and general deformation of the roller tube, especially in wide width installations.
Cut-to-length service:
Picturesque+ 4303 is available in cut lengths at a surcharge of $10.00 per cut. Cut lengths are generally dispatched within two working days of order and are available for shipment to all parts of Australia.
Key selling features:
Picturesque+ range has several features that provide competitive advantage over other screen fabric ranges sold in Australia. In particular:
12 fast moving colours;
Roll widths of 250cm and 300cm make for maximum cutting efficiency;
FR rating to AS1530 Pt3;
Five-year manufacturer's warranty; and
Very cost competitive, when compared with fibreglass screens.
Product warranty:
Picturesque+ 4505 is provided with a five-year manufacturer's warranty, supported directly by Copaco and including for internal and external applications, except when used not in accordance with the manufacturers specifications and when used in tension systems.