What's the difference between Crimsafe and SecureView?
We often get asked by customers what the key differences are between SecureView and Crimsafe, as well as other security screen manufacturers on the market. To help you make an informed choice and choose the best product for you and your family, we have put together information outlining the key differences between SecureView and Crimsafe.
Australian Standards
5039
All security screens that have been tested to comply with Australian Standards 5039 are strong and fit for purpose. All CommandeX and Crimsafe security screens are independently tested and meet Australian Standards 5039.
Material
SecureView security screens are made from 316 stainless steel mesh with a wire tensile strength of 900 MPa. Each strand of wire to make the mesh is 0.8mm.
Crimsafe is made from 304 structural grade stainless steel mesh with wire tensile strength of 800 MPa. Each strand of wire to make the mesh is 0.9mm.
SecureView is thinner, has a higher tensile strength, and is more corrosion resistant as 316 stainless steel is a higher grade of Stainless Steel than the standard 304. Similar Comparisons can be made between Crimsafe and other suppliers such as Invisiguard, Amplimesh, and Prowler Proof.
What's the difference between 316 and 304 stainless steel?
Both grades contain chromium and nickel, however 316 stainless steel also contains 2% to 3% of molybdenum to increase corrosion-resistance.
Fabrication
CommandeX patented an innovative fixing system for its range of security screens, including SecureView and Xceed, which prevents any contact between the stainless steel mesh and the aluminium frame.
A clear gap is proven to reduce the chance of galvanic corrosion between different types of metal and ultimately prolongs the life of the security screen.
The security screen mesh is attached to a two part wedge system using 3M™ VHB™ (very different to the 3M household products!) and fitted into an extruded aluminium frame.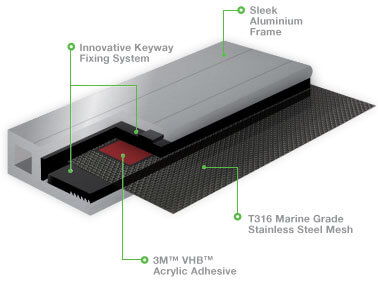 3M™ VHB™ is a high performance adhesive tape used in the construction and aerospace industries.
The tape is adhered to the flat side of our frame's extrusion to create maximum strength and durability and ensures there is no chance of the mesh and wedge slipping out of the frame.
CommandeX frames have two unique extrusions (one in the shape of jagged teeth and the other of a channel) that allow the matching shaped wedge to fit securely, with NO movement.
Crimsafe uses their own Screw-Clamp™ technology, where the security mesh is screwed into the frame and clamped down with a vice like grip.
Unfortunately, the risk of corrosion increases when two dissimilar metals (screw and mesh) come into contact.
Locking
Security doors must be fitted with a triple lock to comply with Australian Standards to be classified as a security door.
If a quote or existing screen door only has a single lock, then it is actually a safety door or barrier door.
Appearance
Supaview believe that security screens should be secure and look great!
Our innovative fixing system does away with unsightly midrails and is far superior, both mechanically and aesthetically.
How do we achieve this?
By inserting the two part wedge into our frame, the mesh is stretched firmly outwards. This result in a tighter fitted door than you would see in a system that has no stretching process.
A NO wedge system relies on a perfectly flat mesh to get a tight door, which is often unattainable and this is why a midrail is often required in this type of system.
Price
Prices will vary from supplier to supplier, however our SecureView screens and doors are consistently priced below Crimsafe Ultimate.
Which is best, SecureView or Crimsafe?
What makes one security screen better than the other? This will largely come down to individual preference after taking into consideration the technical specifications, customer service and price.