Supaview Security & Sunscreens drop arm awnings, also know as a pivot arm awnings, are an excellent way to cover any window be it large or small.
With operation via a crank handle or motor, you have the ability to operate a very large blind with a minimal effort.
This versatile awning gives anyone, at almost any age, the ability to extend or retract an awning over a huge window with ease that you may not have thought possible.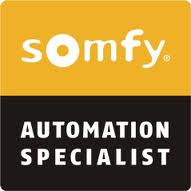 Need it even easier? Put a Somfy motor in it.
At Supaview we love it when our customers are excited about their Awnings and Blinds and this happens most often when we make them work with a remote control.
Motorisation of an awning or blind is becoming as common as a motorising garage door.
To operate your Awning or Blind all you need to do is press down or up and it will effortlessly move to the set up or down position. You can stop the Awning or blind anywhere by pressing the stop button.