Supaview Security & Sunscreen, the experts in Roller Blinds
Roller Blinds are so simple & practical yet so elegant…………
When in need of a window covering, blockout, light filtering or sunscreen, the roller blind is the first choice of Architects and Designers across Australia.
With a huge range of fabric types and colours to choose from there will be something to suit your style.
Rather than slats that rotate, roller blinds achieve varying degrees of light control with different fabric options.
Blockout fabrics, as the name suggests, allow no light to filter through the fabric.
Light-filtering fabrics are soft fabrics with a weave that allows a small amount of light to filter through.
These fabrics are often available in corresponding patterns or textures to block out fabrics, making them ideal options for duo roller combinations.
Sunscreen fabrics are mesh-like synthetic materials that help to cut down heat and glare.
These are also great for privacy during the day when the light is on the outside of the window.
As with most blinds, where you mount your roller blinds can make a huge difference to the overall look and function.
Roller blinds can be mounted inside the window frame, or outside the window frame.
When choosing your mounting option, talk to one of our experts about the best mounting option for your needs.
We have a range of composition options to suit virtually any room including single roller blinds, duo roller blinds, linked roller blinds and motorised roller blinds.
A range of optional pelmets will compliment any application.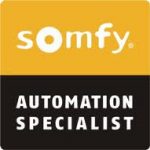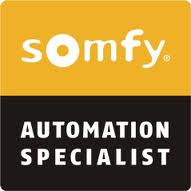 Need it even easier? Put a Somfy motor in it.
At Supaview we love it when our customers are excited about their Awnings and Blinds and this happens most often when we make them work with a remote control.
Motorisation of an awning or blind is becoming as common as a motorising garage door.
To operate your Awning or Blind all you need to do is press down or up and it will effortlessly move to the set up or down position. You can stop the Awning or blind anywhere by pressing the stop button.
Click Below To See Our Range Of Fabrics