SunBloc is a range of blockout fabrics. It uses a polyester base cloth that is knife coated and acrylic backed with a floak coat. SunBloc is unique, as it has been colour matched to complement our Picturesque+ 4505 and 4303 sunscreen fabrics, as well as being available in a width of 320cm. It also has been anti-bacterial treated to inhibit the growth of mould and/or mildew.
Technical specification:
1×1 plain weave
Fabric weight 430gsm
Composition – 100% polyester
Nominal thickness 0.60mm
Nolour fast rating (Blue Wool scale): 5
Roll widths 250cm and 320cm (please see table below)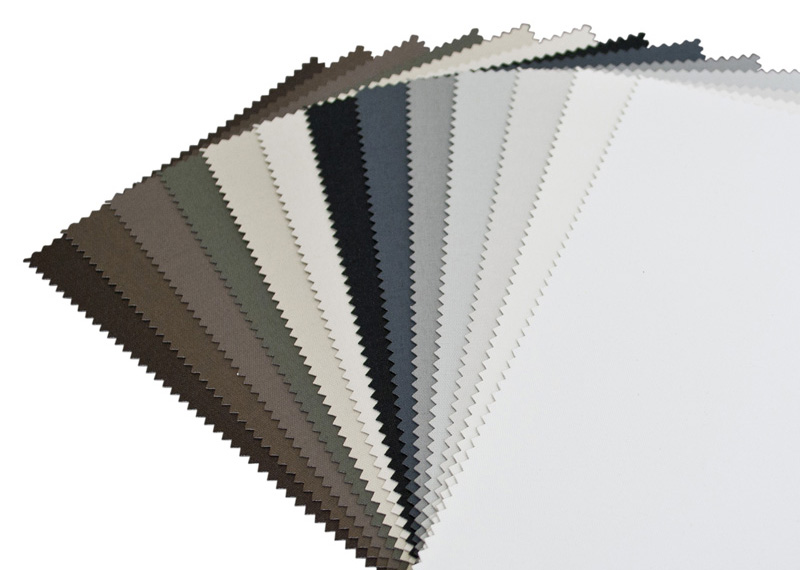 The range of colours and widths available includes:
WIDTH
COLOUR NUMBER
COLOUR
250CM
320CM
010
White
X
X
001
Bright White
X
X
092
White Stone
X
X
099
White Grey
X
X
830
Steel Grey
Not Available
X
894
Charcoal Grey
X
X
880
Charcoal
X
X
095
White Linen
X
X
720
Linen
X
X
893
Charcoal Sand
X
X
892
Charcoal Apricot
X
X
780
Bronze
Not Available
X
896
Charcoal Bronze
X
X
Key selling features:
SunBloc range has several features that provide competitive advantage over other screen fabric ranges sold in Australia. In particular:
13 colours are available that are matched to Picturesque+ 4505 and 4303 sunscreen colours;
Maximum roll width 320cm is matched to the Picturesque+ 4505 and 4303 sunscreen fabrics, making the combination of both ranges a simple and effective solution for the covering any window to 320cm wide;
Anti-bacterial treated to inhibit the growth of mould and/or mildew; and
Five-year manufacturer's warranty.
FR Properties
SunBloc is not FR rated.
Point-of-Sale support:
SunBloc has been integrated into the Copaco swatch because it has been colour matched to Picturesque+ 4505 and 4303 sunscreen fabrics. This creates a full suite of fabric and colour choices for the retailer and consumer. The Copaco swatch is available to manufacturers for their own use and/or for distribution to their retail customer base.
Fabrication requirements:
There are no special considerations for fabricators when using SunBloc, except that good quality cutting techniques should be used. It is recommended that SunBloc is cut using either crush cutting or ultrasonic cutting machinery. Of course, the performance of the fabric will ultimately be determined by the ability of the hardware system to adequately support the fabric with minimum bending and general deformation of the roller tube, especially in wide width installations.
Cut-to-length service:
SunBloc is available in cut lengths at a surcharge of $10.00 per cut. Cut lengths are generally despatched within two working days of order and are available for shipment to all parts of Australia.
Product warranty:
SunBloc is provided with a five-year manufacturer's warranty for internal window applications, except when used not in accordance with the manufacture's specifications.