Often imitated but never duplicated.
Each blind is customised to your individual needs; measured, cut and installed.
It's easy to match or compliment your existing structure and décor.
Speak with your retailer about designing the perfect system for your space.
Sunscreen mesh or clear PVC?
Strong and durable Sunscreen Mesh
Ziptrak® outdoor track guided blinds will accommodate for a variety of sunscreen fabrics including woven mesh.
Your retailer will be able to advise on options for your specific requirements.
The weight and weave density of the mesh will influence the level of transparency and UV protection.
Reduces heat transmission
70 – 99% Wind, Rain, Sun and UV Protection
Offers privacy but maintains the view
Potential to reduce your cooling requirements
PVC for clear views
Clear and tinted PVC is a popular option for many people and businesses.
Your retailer will be able to advise on options for your specific requirements.
Only the highest quality Japanese PVC is recommended for Ziptrak® blinds.
Completely rain and wind proof surface
High quality PVC for clear views beyond
Perfect for maintaining warmth within
PVC won't discolour
Protect your investment with a pelmet
When rolled up, a pelmet encloses and protects the blind from weather and sun.
A pelmet ensures the blind looks great and operates flawlessly for years.
Pelmets are an important addition when the blind is installed outside of the structure.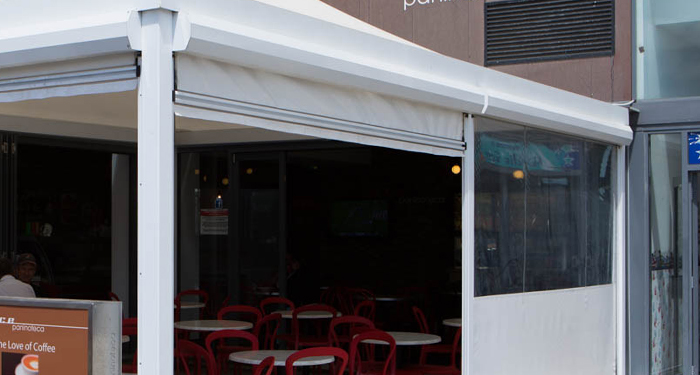 Hide the blind when stored for sleek appearance
Completely aluminium; rust-free
Perfect for coastal conditions
Discreet design
There are three options for installing the Ziptrak® system, depending on your preference and the structure the system will attach to. You can select from a pelmet for superior protection, exposed cast brackets which leaves the retracted blind visible, or a cast bracket with back flushing in order to hide the blind from the external side.

Centre Lock Release
The patented Ziptrak® system is even easier to use with the unique Centre Lock Release.
Secure the blind at the bottom, but raise it with one touch in just seconds.
Yet another remarkable and intuitive solution that makes outdoor entertaining a pleasure.

Blind locks at bottom position
Lock and unlock with one touch
Simple and easy to use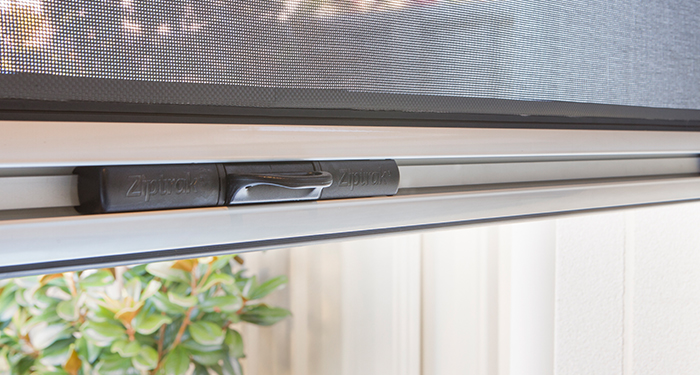 Colour Options
Match or compliment your existing structure with customised options for the vertical tracks, bottom bar and pelmet. Ziptrak® aluminium componentry can be provided in 5 different popular Colourbond® colours, or powder-coated to any conceivable colour.

Maximum Size
Ziptrak® blinds are custom made to suit your requirements, for a secure and seamless installation. The system can cover wide spans to reduce the need for additional vertical supports, and provide uninterrupted views.
Up to 6 meters wide in SunScreen Mesh
Up to 5.5 meters wide in Clear PVC
Components are upgraded for large blinds
Even large blinds are easy to lift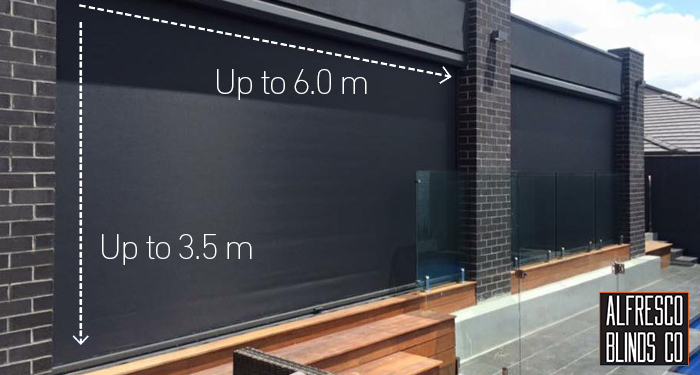 Skirting
A skirting installed into the bottom rail provides added protection from the elements. The bottom rail includes a rubber bumper to avoid damaging the surface where the bottom bar rests. Skirting, otherwise known as a valance, adds another layer of protection, ensuring that water, dust and insects are even less likely to enter your space.
Ultimate weather protection
Ideal for uneven surface
Keep out leaves, dust and moisture
Motorised
Motorisation is a popular option for many households and commercial applications. It can be particularly useful for larger blinds or blinds mounted in hard-to-reach locations. With the touch of a button, the blind can be lowered, operating on either household or solar power. The motor is hidden within the pelmet and looks no different to a non-motorised blind. You can stop the blind at any height, whilst the motor provides a quiet, smooth glide. Ziptrak® recommends that only SunScreen mesh blinds are motorised, not clear PVC.
Smooth and secure operation
Stop blind at any height
Motor hidden inside pelmet
Optional SolarSmart™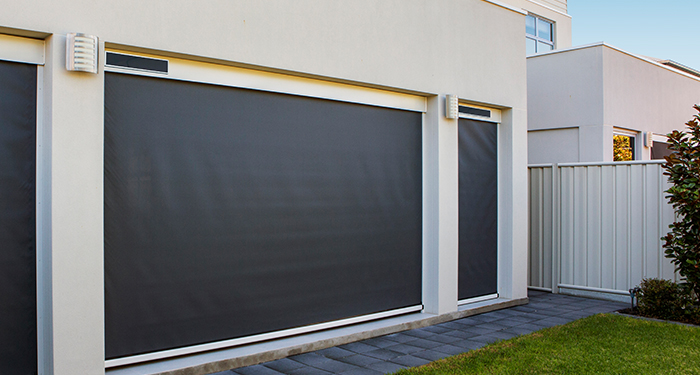 Pull Stick
Avoid reaching up to retract the blind and bending down to lock the blind with the affordable addition of a pull stick to your system. With a robust design and smooth finish, operating the blind is intuitive and simple.
Easy to use
Sturdy construction
Lightweight